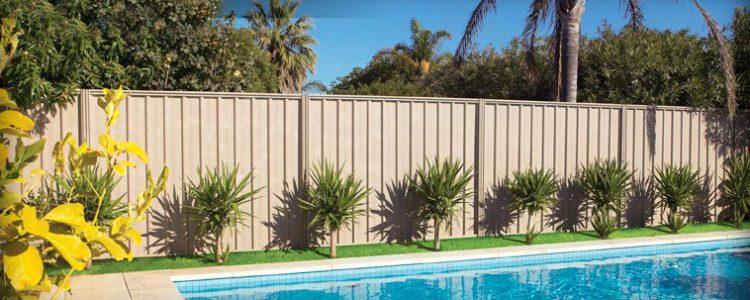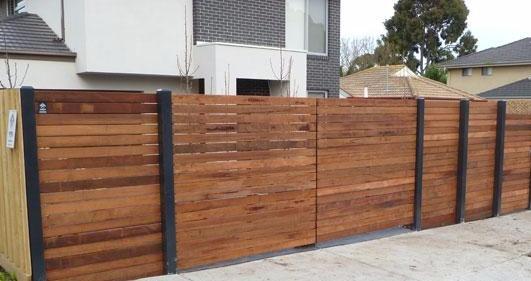 MERBAU FENCE
Merbau is a hard wood that is seen both in decks as well as fencing.
The red/brown colour is very popular for more contemporary locations.
This fencing can be installed with either concealed posts or "Exposed" posts – seen from the front. Posts for this fencing are Dressed All Round to improve the finished outcome.
Fencing is the most visible features of many homes and is also a significant investment for both you and your neighbour.  It is also the most exposed to the elements, so it's important you select a fence that is attractive, strong and designed to last. We specialise in timber and color bond fencing solutions suitable to your needs.
We understand that Driveways add great value to your property hence we take every measure by improving its aesthetics and street appeal.
COLORBOND FENCE
When it comes to choosing a fence, it's not just how great the fence looks that matters, but also how well it does the job, and how much time and effort it takes to ensure it stays up to the task. 
 COLORBOND steel fencing comes in a wide range of panel styles and designs and with its sleek lines, Colorbond steel looks great on both sides of the fence. When installed correctly, it won't have any vertical gaps, visible footholds or loose palings. You can also choose the fence or gate design you want and personalise it by adding lattice, slats and post caps.
CONCRETE AND DRIVEWAYS
We understand that Driveways add great value to your property hence we take every measure by improving its aesthetics and street appeal.
We provide a large range of concrete solutions, whether you want exposed aggregate, coloured or textured concrete, we have the appropriate concrete solution to suit your needs.
Plain Concrete
Plain poured concrete has, for decades, been one of the cheapest ways of laying down a hard surface such as a driveway.
Patterned and Textured Concrete
Pattern imprinted concrete (PIC), sometimes called 'stamped' or 'textured' concrete, has a pattern imprinted on it after it's been laid but before it has dried. Colour dyes can be added before the stamping, so there really is no limit to the look you can have. The imprinting then takes place, which is really just like potato stamps.
Coloured concrete
Coloured concrete is a decorative style of concrete suitable for a range of applications. It can be used for driveways, sidewalks, patios, swimming pool areas, garages, warehouses, shop floors, and showrooms. It's available in a large variety of colours and provides a fantastic finish. Coloured concrete is created by tinting the concrete itself. Unlike painting on top of the concrete, colour-tinted concrete is incredibly durable and skid resistant. 
Exposed aggregate
Exposed aggregate can be used with two or more colour combinations on your driveway or patio, or incorporated as a border for your paving area. The colour and texture of the finished surface of exposed aggregate concrete will depend on the colour, shape and size of the stones.